Sunday Afternoon Pottery Class | 11 August - 27 October 2019 | 12 Weeks | All Levels | N1 Studio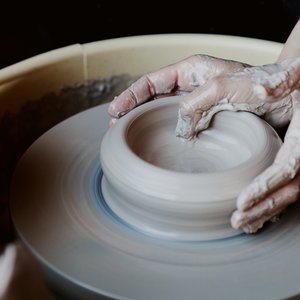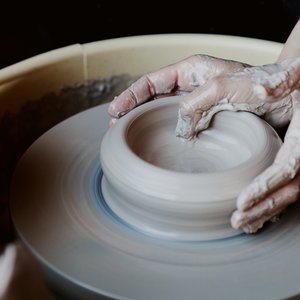 sold out
Sunday Afternoon Pottery Class | 11 August - 27 October 2019 | 12 Weeks | All Levels | N1 Studio
12 Week Pottery Class | Sunday Afternoon 2.30pm-5pm | Sunday 11 August - 27 October 2019 | All levels | £320 plus small fee of £4 per kg for clay you want fired | Teacher: Karina Smagulova
About the Course
The class caters for those who want to develop their existing skills and complete beginners too. Please speak to your teacher in the first class, if there are specific skills that you would like to focus on during the course.
About the teacher
Karina Smagulova was born in Greece to Russian parents. After studying Architecture, she moved to London where she discovered her love of ceramics, and now works with clay full time. She is an In Production member at Turning Earth, where she makes and sells under the name of Leu Ceramics. Although her work is inspired by minimalist aesthetics, Karina's students work in a wide variety of styles, and she encourages them first and foremost to be unique.
A former student said: "Our teacher, Karina, has been the most wonderful and patient with her students. The 12 week course covers a lot of the knowledge and skills (both hand building and throwing on a potters wheel) you would need to work independently in a communal studio. Through practice with the right guidance from our teacher, you can really see a lot of improvement in a few months".
Meet our team and learn more about your teacher.
Materials
We will provide all materials throughout the course. All of our students use our buff stoneware clay, and have access to a full range of tools, slips, moulds, and use of our SkandiHus glazes, which are mixed in-house and used by Stine for her own work.
See our range of glazes available.
What to Bring
We will send you our student handbook prior to the start of the course, with all the information that you need to know. You are welcome to bring your own apron, or you can purchase a SkandiHus apron here. Please enter code 'COLLECTMYAPRON' at checkout if you would like to avoid delivery fees and collect the apron in your first class.
What if I miss a class?
It is not a problem at all to miss a class or two throughout the twelve week period. We ask that all students try their best to attend the first two sessions, as these are difficult to catch up on if missed, but we understand that you may have other commitments throughout the twelve weeks, and your teacher will ensure that you are caught up on everything that you have missed when you return. Please note that we cannot accommodate students making up missed classes at other times, nor can we allow students to swap their classes once the course has started, because our classes always sell out.
Where
This class is taught at Stine's beautiful studio in Hackney, 90 De Beauvoir Road, N1 4EN.
Please note that we have a 28 day no refund policy before the start of the course and missed classes can not be made up in different classes so please make sure that you are able to attend all classes before booking. Thank you.